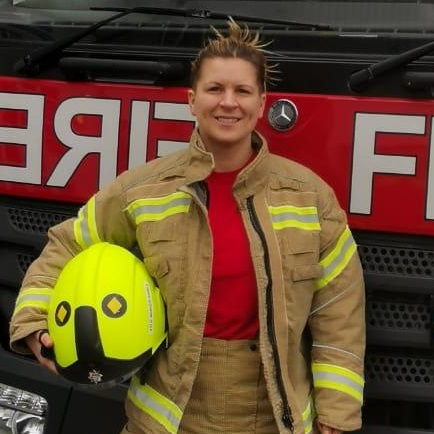 Kylie Manser-Baines
- Firefighter
Kylie started as an Amateur in 2004 turning apprentice in 2006 riding for trainers including John Best, Brendan Powell and Gay Kelleway. She rode around 50 winners in total including the De Beers Diamond Race at Ascot. Due to issues with weight and lack of rides, she stopped riding in 2011. Since then she has been running a successful racehorse rehoming business from her base in Kent and has recently qualified as a firefighter for the London Fire Brigade.
What made you interested in a career in the fire service?
I was really keen on the idea of being a firefighter when I was a teenager but horses took over. When I started seriously considering it, I was worried that you'd need to be big and strong but actually it's not always about that. The other day I had to rescue a Chihuahua from a burning house and you didn't need to be big and strong for that job!
How do you combine firefighting and your racehorse rehoming business?
I rehome between 50 and 60 racehorses a year. The two careers actually combine pretty well as I work on shifts for the fire service which means there are only two days when I can't do my horses in the day but I'm able to work round that. It's nice to be able to carry on with the horses but be able to supplement it with a steady income from the fire service.
How difficult was the application process for the fire service?
It wasn't a difficult application process as such but it was quite long and intense. I applied in March 2019 and then had to carry out a number of exams before I was then selected to be interviewed. We then had a number of practical exams where we had to do role play and group exercises. Next I then had to pass a fitness test doing timed exercises such as climbing ladders, casualty evacuationand carrying equipment. After that I had a medical, my references were checked and I did six weeks of online pre-learning. This was followed by an 11 week intensive training course with exams every week. I finished this training in March so the process took a whole year.
What skills as a jockey have helped you in your new career?
Obviously working in a male dominated environment in racing has helped me settle in well in the fire service. I also think as a jockey you have to be a good team player and get on with people and that really helps in my new job. You need to bequick thinking working in a dangerous profession and look out for each other. You have to be brave to ride horses and to go into fires.
What do you most enjoy about your career?
When you get a call come in, it's a big adrenalin rush. I love helping other peopleand when people can't thank you,it's really rewarding.
What is the hardest aspect of your role?
Having to do reports on a computer can be a bittedious as I'm not used to that type of work. But remembering how everyone has their tea can also be challenging!
How did you use JETS during your career?
Whenever I had new ideas about my career, I'd call Lisa and she was always very helpful, giving me advice and pointing me in the right direction which in this case wasto put me in touch with Alan Daly (another former jockey turned firefighter) for advice. She also helped me prepare for my interview which was the first one I'd ever done. She has always been so positive towards anything I've mentioned doing. I also did my LGV training and trailer towing through JETS which is really useful for my racehorse rehoming business.
What advice would you give to current jockeys?
We all know that as a jockey one injury could be career ending. I'd recommend getting in contact with JETS and trying to work out what you might want to do when you retire before you actually do. It's reassuring to have something to fall back on. Don't be afraid to ask about new careers and try and learn as much whilst you're still riding. JETS are always happy to help, are very positive and offer constructive practical help whether you have had 50 rides or 5,000.
June 2020