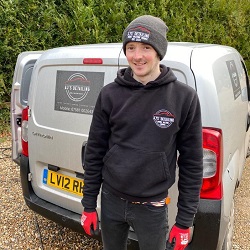 Aaron Jones
- Car Valeting
Aaron Jones rode for 5 years as an Apprentice, primarily for Stuart Williams, winning the Betway Hever Sprint Stakes at Lingfield for him aboard Royal Birth in 2017. He had 80 winners before deciding in 2019 to retire from race riding due to a lack of opportunities. After taking a year off when he rode out and relaxed after the hectic lifestyle of being a jockey, he decided to set up his own mobile car valeting business (AJ's Detailing). Established at the start of 2021, the business is going really well and allows him to continue riding out in the mornings.
How did you decide what second career to go into?
I did look into a lot of things and considered following my dad into the engineering industry but I had my life set up in Newmarket and knew that I really wanted to find something outdoors and practical as I'm not really an office person. After a few conversations, I realised that car valeting could be a lucrative business and cleaning cars is something that I enjoy so I thought it would be a good business to go into which I could do alongside my riding out so I'm still involved in racing which is great.
How did JETS support you?
I talked to Phil a couple of times at the British Racing School and it was really useful to talk through some different career options. I did some research and found someone offering training in Nuneaton where I'm originally from. JETS helped fund the training and also put me in touch with some other people who have gone into the same line of business who have helped me along the way.
How did you set the business up?
First of all, I had to buy a van and all the jet washing and cleaning equipment. I started off in January and I have been flat out ever since. Through racing, I know a lot of people and have generated a lot of business through Facebook and Instagram. I also distributed quite a few fliers locally but a lot of my business has come via word of mouth.
What skills as a jockey have helped you in your business?
As a jockey you have to develop good communication skills talking to owners and trainers and that has definitely helped me find clients in my new business. It really gave me confidence and in the same way you have to put yourself in front of people as a jockey, that attitude also helps when you are developing a business.
What goals do you have for the future?
I'm just getting started but eventually I'd like to branch out and build up a fleet of vans.
How would you compare your life now to when you were a jockey?
Towards the end of my career I was getting quite disheartened as I wasn't earning very much money but I'm a lot happier now and more relaxed. I put on about a stone in weight when I stopped race riding but that's fallen off with the physical nature of my job now. I like the fact that I can still ride out and in some ways what I do now is quite similar to being a jockey in that I'm always on the move, going to different places and meeting new people which I enjoy.