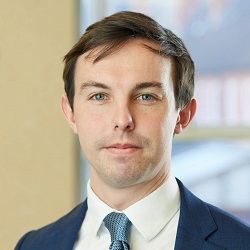 Joseph Cornwall
- Investment Manager
Based in the Midlands, Joe Cornwall rode as a Conditional jockey for 9 years enjoying 37 winners under rules. He continued his riding whilst also working towards his second career, studying for a business degree at Warwick University. He used JETS to get underway with his finance exams and shortly before qualifying as a Chartered Wealth Manager he retired from the saddle in 2015. He is now a successful Wealth Manager and recently was selected as one of Citywire's Top 30 Under 30 Wealth Managers.
How hard was it to combine your studies with being a jockey?
I managed it fairly well and was lucky to have the support of my father who I was riding for. Many of the qualifications were either computer or exam centre based. I used JETS to help me get through the early exams which was very helpful and I have been very grateful for their support.
What factors influenced your decision to stop riding and focus on your career in the finance world?
I was always open to see where my riding would take me and that's why I carried on after graduating from University but I was finding that my riding just wasn't progressing. I was reaching the end of my claim at 25 years old and I felt that I had a chance to be successful in a new career and it felt the right time to get going.
How did you get started in your second career as a Wealth Manager?
I approached a recruitment agency and started applying for jobs. I think my background as a jockey definitely helped me stand out and the person who interviewed me for my current role (as an Investment Manager for Gore Browne Investment Management) had an interest in racing. It's definitely helped me provide a point of interest for many of my clients.
What do you most enjoy about your new career?
I really enjoy researching smaller companies to invest in especially those working in niche technologies. I find the innovative businesses who then list themselves on the stock market really interesting.
How satisfying was it to be selected for the Top 30 Under 30 Wealth Managers?
It's a very prestigious accolade in the Investment Management World and definitely something I aspired towards when I set out. I was grateful to be nominated and I'm proud of what I've achieved so far. It's obviously a strange time to receive the nomination but I think in the medium/long term the investment industry will be resilient. As long as I can continue to build up my intellectual capital, I'm hoping that my career won't be too affected.
What has been the hardest part of your career transition from jockey to the finance world?
I've definitely had to make sacrifices and the hardest part was having to restart my life at 25 years old. I had to move from where I was living in the Midlands and having built up friends in one industry, I had to start again and reset the key objectives in my life. I'm glad I planned for it and would advise everyone riding now to make sure they plan ahead to make transition easier.
June 2020