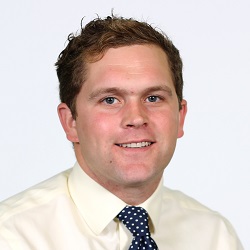 Charlie Huxley
- Mortgage Adviser
Charlie Huxley rode as Jump Jockey from 2008 when he turned Conditional to 2013, retiring with around 100 winners under his belt. Despite winning the Scottish National and having a Cheltenham Festival winner, he realised he was not going to reach the very highest level as a jockey and so decided to retire and focus his attentions on the property world. With JETS funding he took his mortgage advising exams and has recently secured a job as a Mortgage Adviser for Knight Frank which he started in August 2016.
At what point did you decide that you wanted to retire as a jockey?
I was mainly riding for Alan King and I enjoyed every minute of my time there, he was very good to me but once I rode out my claim, the winners and rides generally started drying up and I wasn't where I wanted to be financially or in terms of winners. I realised I wasn't going to be in the top 10 and I really wanted to have a career in which I was going to be really successful. Even though weight wasn't really a problem I realised during 2013/2014 season I needed to retire and I made the decision very quickly.
Did you know what you wanted to do when you retired?
I didn't have a clue. I had thought about it a lot but really didn't know what direction I wanted to go in. I initially started working with my dad who's a farmer but then joined a network selling protection and life insurance. I really enjoyed it and it gave me good experience. I'd always had an interest in property so decided to move on and take some CeMAP mortgage advising exams. JETS helped fund them and I just got stuck in, doing 2 five day courses with the exams in between and within 2 months I was qualified.
How did you get the job with Knight Frank?
I signed up with a recruitment agency, my auntie is a headhunter and she helped me with my CV. I had 2 or 3 interviews but Knight Frank was the job I really wanted. They are a great company and have lots of associations with the racing world. I'm based in the Esher office and have moved to London from Shropshire.
How are you feeling about working in such a different world?
It's a completely new challenge and I'm really looking forward to it. I'll have to be like a sponge and learn quickly. They've never taken on a Mortgage Broker with no experience before so I've just got to get stuck in and be really on the ball. It's a bit like when I made the leap from being an Amateur to turning professional. Living in London is going to be great but a bit scary as it's such a different world.
What skills that you acquired as a jockey do you think you'll bring to the job?
I think any jockey who has been half successful has learned good people skills. You meet so many different people every day and that really helps when it comes to sitting in front of strangers and being able to liaise confidently with people.
What are your ambitions for the future?
I will obviously be given a lot of leads from Knight Frank but I really hope that I can build on the contacts I've made within racing and generate my own business too. When you leave racing after riding for so many years, it's a bit of a shock that racing carries on without you and I do still miss it, it will always be part of my life and I'm really hoping that I can carry on the connection through my new career.
September 2016