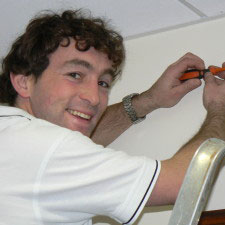 Mark Bradburne
- Electrician
Mark rode as a National Hunt jockey for ten years from 2001 to 2011, having previously ridden as an Amateur for eight years. He broke his back in a race fall in 2009, at which time he decided he had to plan for the future. He has always been very practical and interested in property development and decided to train as an Electrician during his injury time.
JETS HELP:
JETS career consultations helped Mark to identify property development/renovation as an alternative career. As a first step, Mark decided to train for his City & Guild Electrician qualifications with the help of a JETS Scholarship.
THE RESULT:
Mark quietly built up business contacts and worked on various projects during the less busy times while he was still riding. He is now enjoying his new role as an electrician trading under the name of Bradburne Electrical in Lambourn and surrounding areas.
COMMENTS:
Mark: "Planning things gradually meant I was able to leave the game on my own terms so when it came to it, the decision to retire was a lot easier.
"JETS were a brilliant help, finding me the right course and arranging the grant, supporting me all the way. I asked them from the start to keep my plans and training confidential because that was what I felt most comfortable with."
July 2012