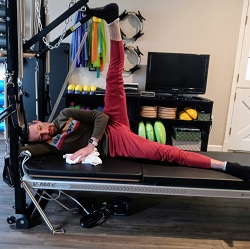 Willie McCarthy
- Pilates Instructor Training
Jump Jockey Willie McCarthy moved to America in 2009 to seek more opportunities. Since moving to the USA, he has enjoyed 90 winners as a part-time jockey, was Champion Jump Jockey in 2014 and has won over $3 million in prize money. Following a nasty fall in June 2020, JETS provided the funding for Willie to pursue Pilates Instructor training. He intends to continue his Pilates Instructor training while in Australia where he is moving to ride for trainer Ciaron Maher.

What made you switch your riding career to the USA?
I had nearly ridden out my claim in the UK and the riding opportunities were getting less. I was getting a bit tired of all the driving and travelling around the country to ride not particularly good quality horses. The PJA told me about an opportunity to ride in the States and I jumped at it. I really enjoyed my initial 90 day stint and decided I wanted to move to the US permanently. I spent the following year at home in Ireland to get all the paperwork in place, and I returned to the US in 2011 permanently.
What have been your most memorable winners to date?
I have had a handful of Graded stakes winners. In 2014 during my Championship winning season I won the Gr.1 Iroquois Steeplechase in Nashville with Divine Fortune for Jonathan Sheppard. Another memorable winner was Snap Decision in the 2019 Champion Hurdle for Jack Fisher. He won it as a first season novice, and it was very satisfying for me since I had been closely involved with his training and schooling since he came off the Flat. My family was in attendance that day at Far Hills so it was a very special occasion and a day I will never forget.
Where did your interest in Pilates come from?
I suffered multiple injuries from a fall at Philadelphia Park in 2017 and found that Pilates was tremendously helpful in my recovery. I have continued to practice Pilates for the past 3 years and I really believe it is extremely beneficial both mentally and physically. My doctors told me I was very close to being paralysed in the fall last year, when I suffered 3 cervical fractures and I honestly believe the strength and conditioning I had built up from Pilates contributed to me not being more permanently injured. Pilates has been a huge help in my rehabilitation, and ultimately in my complete recovery. I honestly feel blessed to have found Pilates.
Why did you want to train to be a Pilates Instructor?

After I broke my neck in June last year, I knew I needed to start planning and I really wanted to do something positive during a year that was extremely difficult for everyone. I had already reached out to Lisa at JETS a couple of times before, so I gave her a call and she made the whole process so straightforward. I have now completed the first certification course, and I will need to complete 3 more before I will qualify as a Pilates Instructor. I really want to use my personal experience and skills to help other people enjoy the benefits I have gained from Pilates. I am especially interested in working with people who are recovering from injuries, as Pilates plays a huge part in rehabilitation nowadays. I see this as an area of Pilates that has a huge growth potential and one that holds personal as well as professional interest for me.
Why have you decided to travel to Australia?
I love living in America and I was granted my U.S Citizenship in January. I will return here afterwards. However, I feel like one of the greatest gifts in life is being able to travel and explore new places. We share the planet with so many different and interesting people, and since I am only 37, I want to take advantage of the opportunities to meet new people, and on a professional level experience different ways of training racehorses. Another goal is to join a very small list of Jump jockeys who have won races all around the globe.
How will you continue with your Pilates training in Australia?
My plan is to ride out in the mornings for Ciaron Maher and do some race riding. In addition, I plan to offer Pilates training as well as pursue more advanced instructor training. My training is through a company called Balanced Bodies which is internationally recognised so I can continue to train while in Australia.
How important was it to have JETS to help you?
I honestly don't think I'd have done the training without the financial support from JETS and Lisa's encouragement to take it forward. I'm so happy I took that first step. It was a big thing for me to do, especially going back into a classroom environment since I finished school at 18 and have only really been riding horses since then. I was worried that I wouldn't be able to put my mind to it, but I really have fallen in love with Pilates training.
What advice would you give to young jockeys interested in riding abroad?
My experience in the States has been positive. The trainers there appreciate what a good grounding the European riders have, and I found that I gained a lot more confidence riding better horses. It's good because I'm a big fish in a small pond here compared to in the UK or Ireland where it was the opposite. Making goals and pushing yourself to achieve them is so satisfying and rewarding. So, I would just encourage anyone to work hard, the harder I worked the luckier I became.