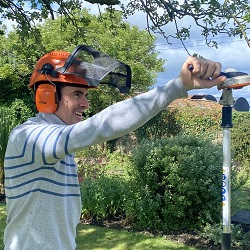 Colm McCormack
- Garden Maintenance & Decorating Business
Colm came to the UK in 2008 and then pursued a career as a jockey switching between his amateur and Conditional licence and riding 65 winners in the UK, France and Italy, his biggest win coming at Auteuil on Grand Steeple-Chase de Paris day. He gradually built up work in the summertime doing gardening and maintenance work. With about 100 rides a year, he decided to retire from riding aged 31 in April 2021 after riding a winner for Philip Kirby. With a new family, he then set up his business properly and is now busier than ever, carrying out maintenance, gardening and decorating work in the North Yorkshire region.
Did you always know what you wanted to do after riding?
I didn't really have a clue, I just started the summer work when I wasn't riding much and it has just kind of worked out. I was able to quickly expand the business when I stopped riding and always had plenty of work and only a short time after my last ride, I didn't even need to carry on riding out. I went from living racing 24/7 to hardly watching it now!
How as your background as a jockey helped you in your second career?
Obviously as a jockey you need to work hard and always want to do a good job so that helps a lot. I also made so many contacts which has led to lots of work around here.
How helpful have JETS been?
Thanks to JETS I have done various courses to help me get my business set up including a chainsaw course and trailer towing. It's great to know that they're there and when I've got time, I will speak to Phil about doing some other courses which will help me as I grow the business.
What are you most enjoying and what are you finding most challenging about running your own business?
It's nice not being locked into being at certain yards at certain times. You're your own boss and can plan your work so you do as much or as little as you want. I'm making a nice living and now earning more than I was as a jockey. It is extremely manual work which can be tiring but I'm set up on Facebook and feel that word of mouth marketing has worked really well for me.
What ambitions do you have for the future?
I'm hoping to expand the business and do more decorating and painting to keep me busy in the winter months. I'm going to invest in new equipment and do some courses to gain new skills.
What advice do you have for jockeys considering their future right now?
I think it's really important to have another career in the back of your mind. Use JETS to get started and remember there's a whole world out there where you can work outside of the racing bubble.