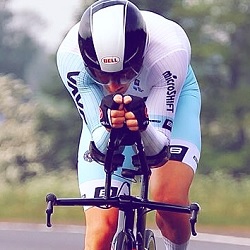 Former Jump jockey Wilson Renwick rode over 450 winners before he was seriously injured in a fall at Market Rasen in 2015. Unfortunately, due to nerve damage in his arm he was not able to return to race riding. He had not given any thought to what he would do after riding but fell into professional cycling after he'd taken it up to maintain his fitness whilst injured. He has since built up a second career based around cycling.
How hard was it to come to terms with being forced to retire through injury?
I thought I had years left being a jockey and the rehab process was really drawn out and I was very close to being allowed back. I'd put all my focus into the rehab process and keeping fit and light whilst off which is why I was doing so much cycling. I hadn't given much thought to what I was going to do after riding so when I finally was told I couldn't come back, cycling seemed the natural thing to focus on and it allowed me to remain competitive which was really important to me.
How did you manage to make a career from cycling?
I knew I didn't have long to make a success of the cycling as I was 34 years old but I had made quite a few connections whilst competing and that helped me get a place on a professional team. I was the Scottish Time Trial Champion in 2017 and won the yellow jersey in the 2019 Tour de Guyana but unless you're cycling at the very top level, it's impossible to make a living from cycling alone so that's why I have started coaching and also am in the process of building accommodation as I want to start running cycling holidays in Scotland from next summer.
How useful has JETS been to you since you retired?
JETS has helped me fund my coaching qualifications and also do a Bike Repair course. It's amazing to think that whatever you decide you want to do, you can pick up the phone to JETS and they will help you. The courses I have done have been expensive and I just couldn't have done it without JETS.
How have you used your skills you gained as a jockey in your new career?
As a jockey you have to deal with lots of people and different types of people and that's useful for any job. The way I built up connections in racing helped me to do the same thing in cycling. I think my experiences as a jockey has helped inform me as a cycling coach too, I do a lot of my coaching remotely, setting up training schedules online and so you have to rely on good communications skills.
How does your career now compare to when you were a jockey?
I get a huge amount of satisfaction from my coaching and I get a similar buzz from seeing the guys I work with do well as I did from riding. With the new business, I'm looking forward to showing more and more people the amazing locations where you can cycle in Scotland, the roads are so quiet and with the sleeper trains to Inverness it is actually very accessible. I feel I'm well on the way to making a successful business out of cycling which I'm really proud of.
What advice would you give to jockeys riding now?
I wish I'd done more with JETS when I was still riding to get myself prepared earlier for a second career. Everyone has to give up sometime and when it's not on your own terms, it's even harder if you haven't already given some thought to what you're going to do.
January 2020