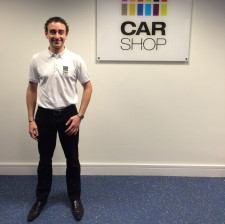 Jimmy Derham
- Car Salesman, Car Shop
Jimmy Derham moved to England from Ireland 7 years ago where he joined Robert Alner's yard as an amateur before then riding for Seamus Mullins. He turned Conditional in June 2009 and was enjoying plenty of success with over 60 winners to his name when in September 2011 he suffered multiple injuries in a serious fall at Uttoxeter. Despite spending over a year in rehab, two stints track riding in the United States and time at Oaksey House, Jimmy was eventually told by BHA's Chief Medical Officer that his licence would not be renewed. With the support of JETS, Jimmy has planned a new future for himself and is now living in the Cotswolds and working at Car Shop in Swindon where he is now looking ahead at a new career away from racing.
How did you feel when you were told that you couldn't ride again?
I was devastated obviously. I had spent a lot of the time in rehab trying to keep motivated to return to race riding. The time in the US did me good to be away from England for a while and working on my fitness at the same time. But when I was told they wouldn't renew my license, the surgeon said that if I suffered the same fall again, I would be dead. When you're told something like that you realise there's more to life than racing and so I just had to accept it.
How did you decide what to do next?
I had a chat with Lisa about different options and during 2013 I did a number of different courses including some media training, I got my LGV Licence in the summer. I also worked at a fruit farm in Salisbury and did some lorry driving and work for Countrywide Promotions. I also did some work on TV for BetRacingNation and in fact I've invested some money in the company and am now a shareholder and director.
How did you end up working for Car Shop?
I'm very good friends with Choc Thornton and he is friends with the owner of the Carshop UK business. He arranged a meeting and offered me a sales job in Swindon which I started in October. The job really started off from nothing but already I feel that there are lots of opportunities and it was great to hear that someone was willing to give me a chance.
Are you surprised to be doing something away from racing?
I didn't imagine I would end up working in car sales but it's a great start. I don't think I could have carried on working in racing as anything other than a jockey. That was a complete lifestyle. Perhaps I would have liked to have been an Assistant Trainer but I would have needed to have been riding for a lot longer to do that. The hardest part has been to make the jump and familiarise myself in a completely different environment but actually I've started really well and out of 24 sales guys I was among the top 3 or 4 in my first couple of months and have already sold around 60 cars since October.
What skills which you developed as a jockey are you using in your new job?
I didn't really think I had any real experience or qualifications as a jockey but Lisa from JETS made me realise that actually being a jockey is all about sales. I've had to sell myself for the last 5 years and I've actually found it quite easy as I get on with all types of people with different backgrounds. Selling cars is the same, you sell yourself first, people like you and then they buy your product. I don't get the same adrenalin rush as winning a race but you do get a buzz especially when you're on track to meeting your monthly targets, the same way I had targets for the numbers of rides and winners I had as a jockey.
What are your plans for the future?
In the short term, I'm happy where I'm living and where I'm working. Car Shop is one of the biggest car supermarkets in the UK and it is an expanding business with more stores opening and they like to promote from within. There is nothing for me in Ireland at the moment and I have good mates over here so I'm hoping there will be some good career opportunities in the future. I definitely feel that a career outside of racing opens more doors so we'll see what happens further down the line.
What advice would you have for jockeys riding now looking for new careers?
I would say that JETS is brilliant at giving help and advice. Lisa helped me with a business plan, doing my CV – I don't know where she dug two pages up from! There is absolutely no down side to JETS but you have to get some idea what it is you want to do. It's only going to be your decision what it is you want to do and then she can help in that area but you have to make things happen for yourself. Nobody can make that decision for you.
January 2015